1955—1956 (Re-Union News in progress, I need input from all my classmates)
It was snowing here in NJ when I left late Jan. The tsunami disaster in SE Asia was still being re-played in CNN but the extent of the hurricane and flooding in the Philippines would confront me later when I arrived in Nueva Vizcaya. The Palugod settled in 

Dupax

 and 

Bambang

 and these two small towns were the hardest hit area in the Philippines (yet it was not even mentioned in the news) 

The

 horror of flash flood and its sound and fury of nature were related to me by the classmates still living there. The lowland quickly submerged as rushing water came from all direction where the diminishing rainforest lost its magic. Livestock and people were lost as most of the farmland was grounded. The power of water so valuable cut the terrain like diamond tool. Trees rooted out, swept and river banks meandered completely changing the landscape. For the first time a sitting president (GMA) visited 

Dupax

 and 

Bambang

 to see the aftermath.
The other part of my vacation was to attend my 50th HS re-union in Nueva Vizcaya.
It was just a small class from a HS on top of a hill that is not longer there. We graduated in 1955-56 and the memories are misty at best.
It was fun but emotional at times. As an amateur historian, I am able to observe a few more things that may have escaped our collective experience. Every year is a year of discovery and exploration and on the middle of that decade men were no different. The first men to run a mile in less than a minute or the first man to climb Mt Everest were the news headlines of the day. Roger Bannister and Sir Hillary were making their part in history. Most of us were very oblivious to the global events while we tried to learn from this small corner of the universe. It was the final of the our formative years and we did our best, but what we studied from the school was only a very small part of what we learned from each other. We even learned from the mistake of our classmates. Those playgrounds encounters were part of a learning process.  It was all part of growing up and the commencement was a right of passage. All we had were blurry memories as we did not even have snap shots, only Kodak moments we stored selectively in our minds.
Southern Nueva Vizcaya Institute, our High school is a common denominator in our life. We were all dreamers and fitting the Platters' great song of the period-" I am the great pretender." The earth has successfully traveled around the sun. I've traveled around the world.  Along the way, we reached several crossroads where each of us had to decide which the right road was. A few of us did not have many choices and they were never easy. Life is never fair but I'm sure that what we learned from each other had helped.
Looking back now, we might have made different choices but revisiting time is unlike revisiting places. This is a reunion and celebration. Rejoice as tomorrow is the first day of the rest of our lives. For whatever experiences we had, I am always proud of our class and company. It is indeed a good year and golden.
<![if !vml]>
<![endif]><![if !vml]>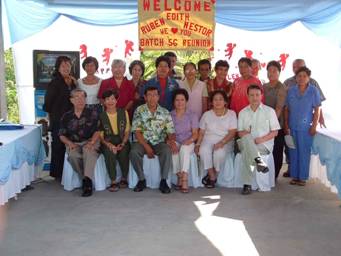 <![endif]><![if !vml]>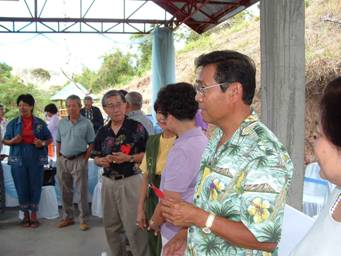 <![endif]><![if !vml]>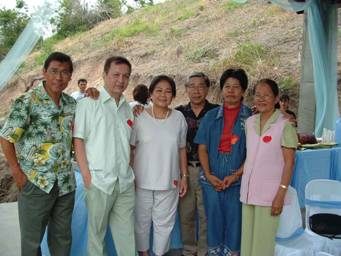 <![endif]><![if !vml]>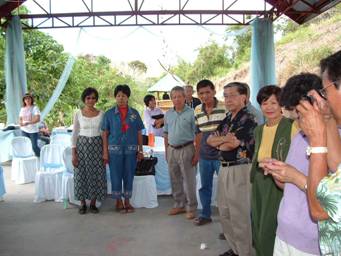 <![endif]>It was a good year…
The Golden Anniversary of 55-56 Class is scheduled on Feb 3-4-5 2005 weekend. Please contact Ruben Balut or Edith Ordonez Perez of New Jersey. In the Philippines Felicitas Rumbaua-Barasi will provide the detail.
Almost half century later, Felicitas Rumbaua (widow of Jose Barasi), Editha Ordonez Perez, and I stood behind the Statue of Liberty in Jersey City/New York. Reminding everyone that it is about that time for the Golden Anniversary of the 55-56 Class…
Agbanlog. Celestino Amador, Saturnina
Balut, Ruben Balut, Estrella (Deceased)
Banaga, Virgilio Barrouga, Leonida
Barasi, Jose Bautista, Lilia
Cabading, Ernesto Bullecer, Cholita
Cabading. Roman Casem, Rosario
Casem, Honesto Cayton, Virginia
Cayton. Rolando Dagdag, Elizabeth email:lilitelan@rogers.com
Enriquez, Nestor Javier, Juanita
Lagasca, Gideon Magpale, Rosalina (Deceased)
Magpale, Rosendo Ordonez, Editha
Mailig, Renato Padua, Clarita
Saulo, Agustin Palugod, Nieves
Soriano, Alfredo Rumbaua, Felicitas
Velasco, Pedro Sales, Alfreda
Vidad, Buenaventura Somera, Florencia
Vila, Rodolfo Vargas, Victoria
Viernes, Virginia
Let us not forget our contemporaries who walked the portion of the 4 years of high school with us. Some because of economic and other family condition were not able to complete the graduation. There were others who transferred to other school but regardless they shared our growing up process. I would like to mention few and please help me track them down:
Dominador Perdido (who transferred to Dalton High)
Rolando Palugod (transferred to Bacolod)
Policarpio (I don't know the fist name)
I remember the first year when there were band members from Indiana who attended)