Aireen  Tabaldo Raņon wrote about the New SNVI
<![if !supportEmptyParas]> <![endif]>
dear sir,
i was surprised to know that u r familiar with my favorite uncle jo, but sad to say, he passed away a year ago. he was really a good teacher to me, and he would always brag how he "brought back"(as he used to say) the best physics teaching in snvi. uncle jo's my mom's eldest brother. all of them graduated from snvi.my mother is ms. norma tabaldo, she used to teach in dupax central but she's now in hk.
when i was in elementary, i never thought of going to snvi for high school because 7 years ago or less, we were calling it kulungan ti baboy,( but i believe it was a pioneer during your and my folks' time, snvi had lost it for some time) so i went to smd for my first year.
snvi was bought by mr and dr. baccay,(1997), the wife formerly ms norma mentac. im sure you know her. so it eventually had undergone changes, from uniform, to facilities, additional building and the fee. so i decided to transfer there thinking i would be in better hands(and thinking the quality of educ there during your time would be revived)the members of their family mostly compose the staff, from school dentist to the president. the simple snvi changed to camella marella snvi institute as its name.it has a sister school here in pamplona las piņas
im not against their administration, actually there was a total pleasing change in the attitudes of the youth in dupax.there are also students from bambang and del sur.but they should employ better teachers.they are in the business so they must first think of the youth's tomorrow. as a future teacher im really concerned for the betterment of the youth, that is why im having a second thought of going back and teach there.
ill be going home in malasin this 10th and i should be giving you more info after i visit snvi. m sendin u our grad pic so u cud see the present unifrom of snvi. m with my friends mcdowell pumaras agawayaway and michelle barroga modesto. (ako po yung nakanganga)
agyamanak apo ta dinillaw yo ti surat ko
"Aireen Raņon" <smacker_buds@yahoo.com>
<![if !vml]>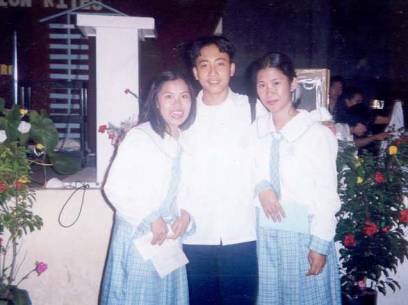 <![endif]>
<![if !supportEmptyParas]> <![endif]>